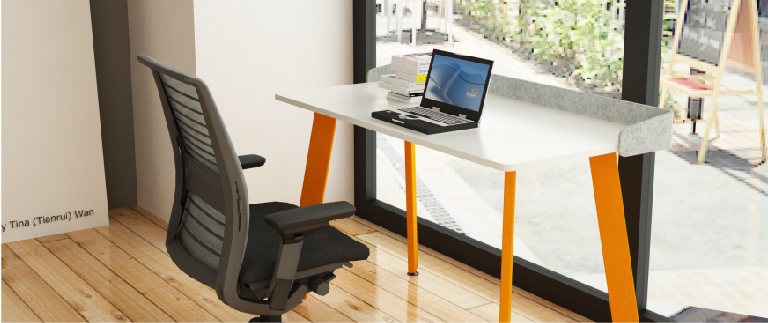 Things to Consider When Choosing Home Office Furniture
The first step towards achieving an effective home office is to designate an available space in your home specifically for that purpose. Once that is done, the next step is to furnish the space with the right home office furniture.

The following are some useful tips when selecting home office furniture:
1. What Type of Space Do You Have?
Determine how much space can realistically be designated for your home office. The available space will determine the type of home office furniture that would serve the dual purposes of functionality ands aesthetics.
2. The Time You Spent at Your Desk
This factor is often overlooked by people who are equipping their home office. A typical 40-hour work would require a dedicated space with a desk and chair to work on. Long hours often result in backaches, neck aches and the like. Thus, choosing an ergonomically right office furniture for your home office is crucial. The type of lighting you are working under is also another important consideration.
Choosing the right home office desk for you
Traditional desk
A traditional desk is similar to a table but may also include shelves or drawers for storage.
Corner desk
Intended to maximize nooks and angles, corner desks come in a variety of styles and sizes.
Floating desk
Floating or wall- mounted desks typically have drop-down desktop that frees ups valuable floor space for other usage.
Credenza desk
A credenza desk provides ample leg room. This desk is often used with an executive or computer desk, allowing for maximum surface area and storage.
Folding desk
This small-space staple Is collapsible making it a foolproof option for those who prefer a portable office setup.
Ladder desk
This modular system comes with integrated shelves above the desktop and can fit just about anywhere. It's convenient for those looking to squeeze a home office into an existing room.
Computer desk
Ergonomically crafted computer desks often come with cord portals (for better cable management) and built-in chargers. Computer desks are ideal for smaller spaces.
Choosing the right home office chair for you
Task chairs
Your run-of-the-mill office chair with casters, a cushioned seat and back, and armrests.
Ergonomic chairs
Ergonomic chairs are essentially task chairs but with modifiable features that go beyond height to include customizable depth, lumbar support, and tilt.
Drafting chairs
Dafting chairs boast even more conformable components. They are ideal for those (like architects) whop spend long hours at their desks
Executive chairs
Featuring a high back, executive chairs are better suited for larger spaces.
3. Your Preferred Aesthetics
An aesthetically pleasing environment motivates productivity. There are myriad types of office furniture that are suitable for a home office setup. They come in an assortment of materials such as wood, steel or glass designed in varying styles from modern to contemporary, glam or industrial. Take your pick. The choices are seemingly endless.
4. Your Budget
The available space you have for your home office would, determine the extent of how you would furnish it with office furniture. A desk and chair would be starters. Ergonomics, heights and sturdiness are areas to look out for. Lighting is the next essential consideration. It may be a task light or a more ambient source. The complementing items like storage, organisers and décor must also be accounted for in your budget planning. A well-dressed work place is a happy one!